STILL ILLITERATE US spends $200M, but Afghan troops can't read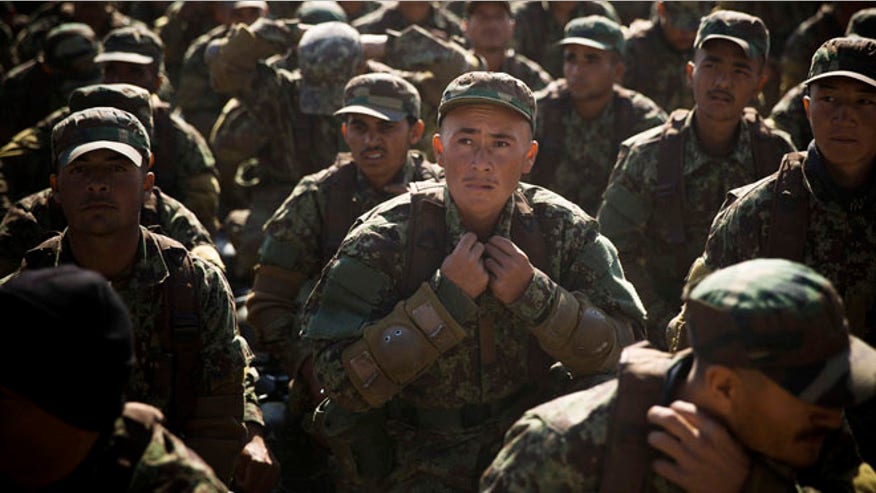 Nov. 26, 2013: An Afghan army soldier adjusts his uniform during an outdoor lesson at a training facility in the outskirts of Kabul, Afghanistan.AP
The U.S. government has committed $200 million to a program teaching Afghan soldiers to read — but a new report shows more than half of them still may be illiterate.
The report, released Tuesday from the Special Inspector General for Afghanistan Reconstruction, detailed numerous problems with the literacy program, which dates back to 2010. Poor tracking of recruits, inconsistent instruction and other factors have left military leaders unable to say how many soldiers can actually read and write, according to the study.
"Literacy of the Afghan National Security Forces is of critical importance," Special Inspector General John F. Sopko said in a statement. "We've spent $200 million on this — yet we don't even know how many Afghan security forces are literate or how well the program worked. That's deeply disturbing."
The program's original goal was for 100 percent of Afghan National Security Forces to achieve what's called Level 1 literacy (equivalent to first-grade proficiency), and half to attain Level 3 literacy (equivalent to third-grade proficiency).
Military leaders initially reported that the program would meet its goals by the end of 2014. But the new report cast doubt on those claims, saying "several" officials told the inspector general's office that achieving that goal may be "unrealistic" and "unattainable."
Further, the report claimed officials said "that over half of the force was still illiterate as of February 2013," a level likely to stay constant through the end of the decade.
The inspector general's office detailed the following concerns:
— The literacy training contracts do not require independent verification of proficiency testing
— The contracts do not "adequately define what constitutes a literacy class"
— Without a clear definition of a literacy class, one contractor billed for classes "held for as little as 2 hours a month"
The report also noted how "security pressures" have caused some recruits to go into the field without the minimum 64 hours of instruction.
According to the report, literacy instruction was removed from basic training for a few months last year.
Contracts worth $200 million over five years were awarded in 2010 to three companies: OTTS, a U.S. company, and Insight Group and HEIK, both Afghan companies.
In response to the report, the International Security Assistance Force announced new literacy training contracts, which it said would require stricter performance standards.
"These measures will not only improve fiscal oversight, they will ensure that we build upon the gains we have achieved in providing formal literacy training to more than 382,500 Afghan soldiers and police," said Maj. Gen. Dean Milner, commander, NATO Training Mission — Afghanistan, in a written statement. "Literacy is a powerful capability that contributes not only to the professionalism of the ANSF, but to the strengthening of Afghan society."
The IG report noted that leaders are trying to improve oversight, and have awarded a "new quality assurance contract."
In its official response, NATO Training Mission headquarters in Kabul concurred with many of the findings in the inspector general report. NATO said it would be training and graduating thousands of recruits in the months ahead, while overhauling the programs to better ensure recruits are attending and track their progress.
"The new approach … focuses on more concrete deliverables that are tied to plans of instructions for the literacy levels," the response said. NATO Training Mission, though, said the contracts do not need to be modified.
Sopko's office has been issuing a string of critical reports about spending in Afghanistan as the war presumably draws to a close.
One recent study said the U.S. Army Corps of Engineers paid $5.4 million for shoddy trash incinerators that were delivered years behind schedule and never used. This left soldiers at an Afghanistan base with no other option than to keep burning waste in open-air pits.